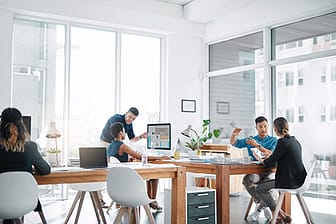 Any business needs partners to be successful, and it's no different for us. Implementing our app often means change: change to company culture, change to process, change to how you work. Our app is not adding maximum value to your business, unless you have a clear mission, vision, strategy, clear objectives and key results you want to achieve. It's usually more effective and efficient to invest a few hours and some money in external support to get you there. Our partners are experts in coaching, educating, mentoring and guiding you on that journey.
Diversitas is a global consultancy built on deep expertise in Diversity and Inclusion. Their team have an even deeper commitment to supporting clients to grow their own capability in this area. Diversitas provides strategic consulting and capability building solutions to an international client base across multiple industries. Their consultants bring expertise in growing cultural understanding, mitigating systemic bias in organisational practice, developing robust D&I strategies and equipping leaders to learn and apply inclusive practices which lead to better business outcomes for employees and the bottom line. In short, Diversitas helps organisations make their unique 'differences count'.
HowTo consulting help businesses dare to explore what is holding them back, by enabling them to walk towards their vision and discover their true capability. The How To Crew have over 100 years of experience working with businesses in four continents in business improvement, project management, change management and process improvement. You can find more details here.
Team alchemy is the catalyst to embed a performance culture both within teams and across team-based organisations. Their accredited team coaches work with you and your teams to co-create what is required in a high performing workplace. This includes a strong focus on collaborating with your key external stakeholders. They use a mix of team process facilitation, team performance diagnostics, team coaching and one-on-one coaching in helping you grow your team and organization capability. Team Alchemy's website is here.
Big 5 Partner diagnostic and discovery pack :
Complimentary exploratory discussion with a qualified Team Coach
Team diagnostic to measure the current state of your team
Facilitation of a workshop to engage your team on the journey to high performance
Konnect Koncepts provides cost-effective, tailored Outsourced HR & Outsourced Recruitment solutions for small and medium sized businesses across any industry. Konnect Koncepts' approach is to develop long-term partnerships and tailored Outsourced HR & Outsourced Recruitment support models that can evolve as businesses change. Check out our partner here.